The first thing that comes to mind when thinking of Shibuya is the iconic Shibuya Crossing – one of the busiest intersections in the world. Here, you can observe people from all walks of life hustling through intersections on their way to destinations unknown.
Apart from taking selfies at the scramble, there are plenty of other attractions worth checking out in Shibuya too. The area around Dogenzaka Street is known for its exciting nightlife scene with dozens of bars, clubs and live music venues open until late into the night.
If culture and history is more your thing then try heading over to Meiji Jingu Shrine which was built back in 1920 as a tribute to Emperor Meiji – it's one of Tokyo's most popular shrines today!
For those looking for some retail therapy head over to 109 Building – home to trendy Japanese fashion stores catering to younger crowds. Alternatively, check out Bunkamura where you can find designer boutiques selling luxury items like watches and jewelry if that fits your fancy better!
Continue reading below where we explore these exciting attractions further while providing tips on how best to utilize your time during your stay here!
Shibuya Crossing
As one of the busiest intersections in the world, Shibuya Crossing is a must-see for any visitor to Tokyo. Located outside of Shibuya Station, the crossing sees an estimated 2.4 million people every day! It's a great place to take pictures and just take in the hustle and bustle of Tokyo life.
Take in the Views from Shibuya Sky
For even more breathtaking views, check out Shibuya Sky – an observation deck located on top of five different buildings in Shibuya!
It's near the top of our list of the best observation decks in Tokyo and has both outdoor and indoor observatories giving you stunning panoramic views of Shinjuku, Mt Fuji, and beyond.
Hachikō
No visit to Tokyo would be complete without paying homage to Hachikō – Japan's most famous dog who waited faithfully at this train station for his owner every day until he passed away nine years later! Today, there is a bronze statue erected where he used to wait which makes for an emotional sightseeing experience.
Join The Shibuya Bar Hopping Tour
This bar-hopping tour has become famous for visitors to Shibuya with people raving about it. It's especially good if you are travelling alone but also, couples or larger groups.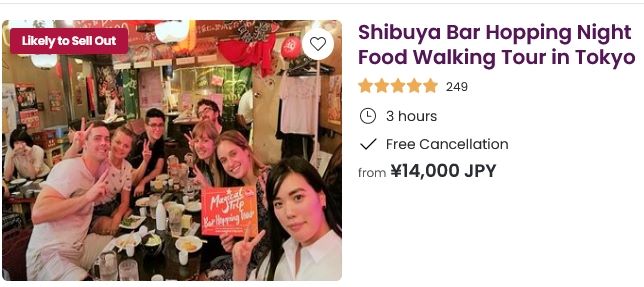 Genki Sushi
If you're looking for some delicious sushi then look no further than Genki Sushi – one of Japan's most popular conveyor belt sushi restaurants located right in front of JR Line's East exit at Shibuya Station. With over 100 types of sushi available it's sure to please everyone!
Nonbei Yokocho, Drunkards' Alley:
One interesting place worth checking out is Nonbei Yokocho (also known as Drunkard's Alley) – a small alleyway full with tiny bars that have been around since 1950s! Here you'll find plenty of lively bars with cheap beer and traditional Japanese pub fare like karaage (fried chicken), yakitori (grilled chicken skewers) and takoyaki (octopus balls).
Love Hotel Hill in Shibuya:
This area near Dogenzaka Hill is also known as Love Hotel Hill because it has over 30 love hotels lining its sides! These hotels offer hourly rates so they're perfect if you're just looking for somewhere quick or a private place to stay during your trip.
Walk Around Yoyogi Park
Yoyogi Park is one park that should definitely not be missed when visiting Tokyo – especially during cherry blossom season when it turns into a paradise filled with beautiful pink blossoms everywhere! The park also hosts many festivals throughout the year so check what's happening before your visit.
Visit Meiji Shrine
Another must-visit attraction is Meiji Shrine – this large shrine dedicated to Emperor Meiji was built over 100 years ago and still stands today as one of Tokyo's most important cultural sites attracting millions of visitors each year. It makes for a peaceful place to escape city life while learning more about Japanese culture too!
Harajuku
Harajuku is another must-visit spot while exploring Tokyo – this vibrant shopping district offers something new around every corner. You can find anything from vintage stores selling unique clothing items or quirky accessories like dreamcatchers – plus lots more so don't forget your wallet before venturing here!
Maid Cafe in Shibuya:
If you're looking for something different while visiting Japan then why not try out one of these 'maid cafes' which are very popular amongst locals and tourists alike? These themed cafes provide an interesting atmosphere with waitresses dressed up as maids serving delicious food and drinks.
Shibuya Station
Of course, no visit would be complete without stopping by the famous JR Line station in central Tokyo – home to some incredible architecture, many shops, restaurants & cafes. Be sure to explore all 15 exits here and get feel city energy!
Tourist Information Center :
At the Tourist Information Center inside the station, u can find maps & guides related to places and attractions around town. The staff is friendly and helpful and answers any questions may have about places to go and things to do in Shibuya. They also sell tickets for events like Sumo wrestling & Kabuki theater performances too!
Shibuya Nightlife
As night falls streets come alive vibrant nightlife options ranging from clubs bars lounges pubs karaoke bars live music venues jazz clubs reggae clubs cabarets hostess clubs etc. Whether want chill vibes dance floor pumping tunes end night-long lost hours singing karaoke songs, there is something for everyone!