If you're looking for an exciting and unique way to explore Tokyo, then a go-kart tour is the perfect activity.
In this article, we'll discuss why these tours are becoming so popular in Japan's capital city, as well as provide some specific examples of what they can offer.
Key Points
There are currently 2 Tokyo Go-Kart Tours Running, the Shinjuku/Shibuya Tour, and the Akihabara Tour
The Shinjuku Go-Kart tour can be booked online on Viator (Free cancelation).
The Akihabara Tour can be booked online at Viator or Klook which has many reviews and photos.
These are really popular so book as soon as you know your travel dates
Need an international driver's license or translation into Japanese
Tours are 1- 2 hours
Go-karts allow visitors to get up close and personal with famous landmarks like Sensoji Temple or the iconic Shibuya Crossing while enjoying the fresh air and dazzling views from the streets of Tokyo itself.
A variety of companies now specialize in providing guided experiences that combine sightseeing with heart-pumping speed around carefully planned routes; taking tourists past traditional shrines, and through modern shopping districts before eventually returning them safely back into town again – all within two hours.
The Shinjuku/Shibuya Go Kart Tour
The Go-kart Shinjuku tour is a unique and fun way to experience the city of Tokyo. The best part about it? You can dress up in costume.
Get creative with your outfit because they have a lot to choose from but you can no longer channel your inner Mario, Luigi, or Princess Peach from the classic videogame series due to a drawn-out legal saga with Nintendo.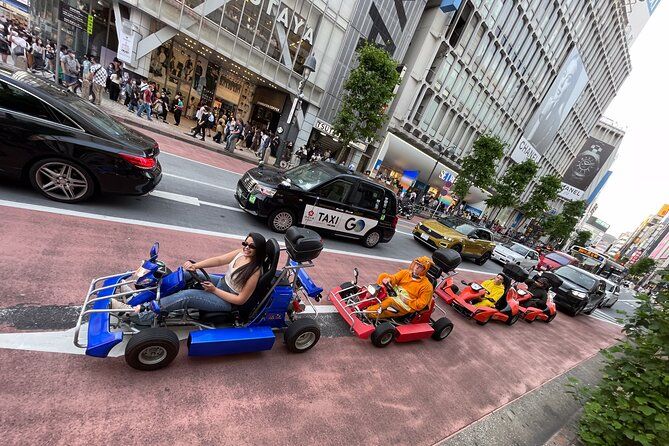 Still, imagine riding around town on go-karts wearing hilarious costumes that will have all eyes turning towards you – what an unforgettable sight.
Don't forget accessories too; wear goofy masks and hats so people recognize who's behind those zooming wheels even faster.
This exciting Go-Karting adventure combined with some fancy dressing makes this activity one not to be missed out on during any trip to Japan.
Key Points
The Go-kart tour of Shinjuku offers a unique and fun experience in Tokyo
Tour routes include Shorter (one hour) and longer (two hours) options
Private tours are customizable to individual requirements
Cartoon character costumes for your ride are included (the minions are our favorite)
A professional guide accompanies you on the route, ensuring safe driving conditions
High-quality photos are taken during the tour and are available at no extra cost
Foreign driver's licenses with translation allowed for some countries or International drivers licensee (check the listing under the "Additional Info" section for full details)
About The Shinjuku Go Kart Tour
Experience the unique go-kart tour of the Shinjuku and Shibuya areas of Tokyo city. You can choose from shorter (one hour) and longer (two hours) routes to suit your needs, with customization available for a private tour.
Afterward, you'll receive photos of your trip at no extra cost.
You can wear fun cartoon character costumes during your ride, accompanied by an experienced guide who will ensure safe driving on busy Tokyo roads. The route passes through popular attractions such as Shibuya Crossing, passed Shibuya Sky, and Shinjuku Golden Gai along the way.
The tour has received 81 reviews on Viator and Tripadvisor giving it 4.5 out stars overall rating making this experience a highly rated one not to be missed – plus free cancellation up 24 hours prior allows users a full refund if needed or desired due to weather conditions that are required for safety reasons.
A valid foreign driver's license issued in certain countries is allowed with Japanese translation but travelers must show their own driving licenses before starting the journey.
Shinjuku & Shibuya Go Kart Reviews
The Go-Kart Shinjuku Tour is an exceptional experience that's definitely worth every cent. With the Monkey Karts crew, you'll feel like a celebrity as people take pictures of your amazing ride.
The team was friendly and helpful in providing all necessary information about safety measures and ensuring everyone had fun during their tour.
Customers must obtain an International Driver's Permit before joining – but trust us, it'll be well worth it when you're out on the Kart experiencing Tokyo lights at night with the 5 pm slot being particularly popular for this reason.
You can expect loads of fun while feeling very safe due to excellent briefing from the owner prior to starting off; Be sure to bring along glasses plus a face cover if going at night or wear a warm jacket during winter months.
The starting location is a train ride away from downtown Tokyo and they provide costumes plus lockers too so no need to worry about your gear while you're hooning around the streets of Tokyo.
The guides are knowledgeable in taking photos around each area as they give interesting information throughout the entire trip – easy enough not to get lost following them either.
All-in-all, karting through Shinjuku is a truly unforgettable event that makes a fantastic way to see the sights the city has to offer;
It's a must-have experience for those visiting Japan and looking to enjoy new adventures.
About The Akihabara Go Kart Tour
Go-karting around Akihabara is an awesome way to explore Tokyo's electronic town. You can enjoy a fun and unique experience of driving around in go-karts while dressed up in various costumes.
There are plenty of options available, such as wearing your favorite anime character or classic Japanese kimono outfits.
Akihabara Go Kart Key Points
The Go-karting tour starts in Akihabara in Tokyo, Japan
Includes go-kart rental with insurance fee and local guide
Enjoy weaving through streets lined with neon lights to view top attractions & neighborhoods
Safety briefing before commencing a 10-minute mandatory lecture regarding safety issues
Good weather is required for the optimum experience
Cancellation policy up to 7 days in advance
Akihabara Go Kart Experience
Experience a unique way to explore Tokyo with the Akihabara Go Kart Tour.
Enjoy an alternative sightseeing experience as you weave through streets lined with neon-lit stores selling manga and electronics wearing costumes inspired by manga and anime characters.
You'll be provided a go-kart rental for your selected duration, local guide services (including safety briefing), and the insurance fee is included.
To begin your journey you'll meet the crew at the garage 5 minutes walk from Akihabara Station.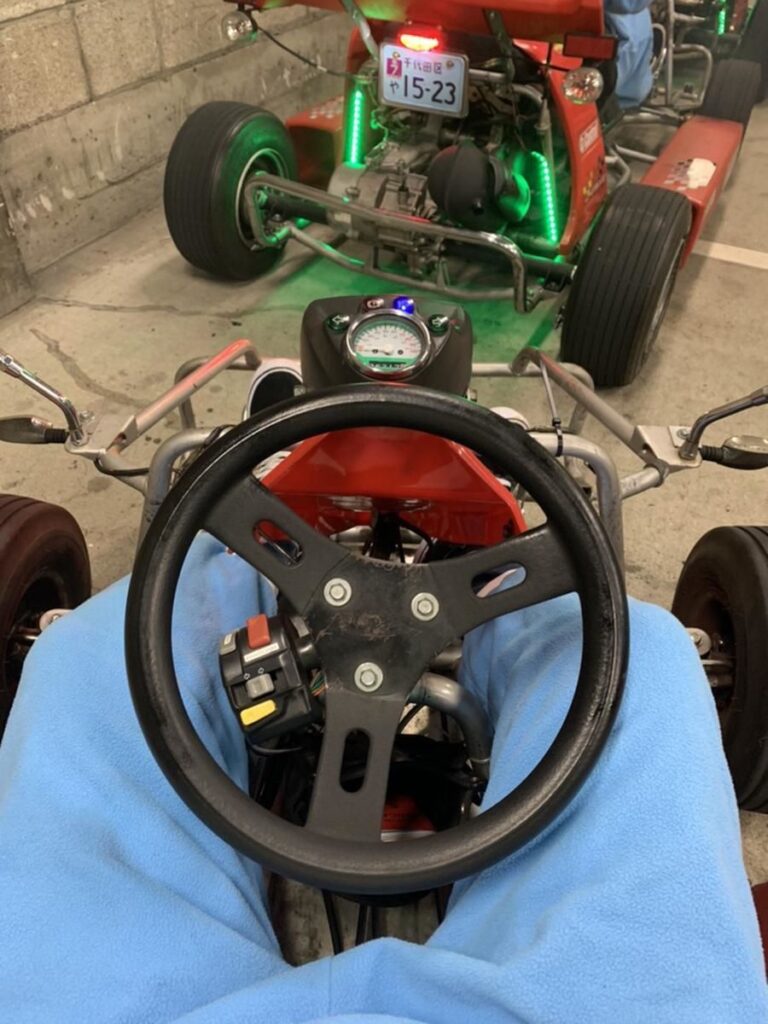 Once on board and out in the street you'll enjoy admiring top attractions including city views along the route before ending back at the meeting point.
Please note that it is mandatory to have either a Japanese driving license or an international driver's permit in order to join this tour. Also, high heel shoes are not recommended due to safety concerns.
They guarantee a full refund within 7 days prior to confirmation with a 50% refund 3 – 6 days prior to cancellation. Note that after this time no refunds are available within two day notice period.
Akihabara Go-Kart Tour Review
The Akihabara Tour offers an amazing go-kart experience, perfect for exploring Tokyo's iconic streets.
With a helpful and knowledgeable guide providing road safety briefings to ensure everyone is safe during their drive, participants are also given access to a large selection of costumes so they can really get into the spirit of things.
If you book this tour with Klook they have a large number of reviews and photos to view and have an easy-to-use voucher system making it hassle-free for travelers looking for adventure in Japan.
The tour starts with fun driving around Akihabara before heading out on an epic night tour that takes guests through Asakusa, Ueno, Tokyo Sky Tower plus more – all while capturing wonderful moments via photos or videos from their professional guide.
Despite some users mentioning worn-out costumes and some fumes from karts, there was still plenty of excitement and positive comments. Even when the rain shortened some sessions due to heavy downpours Klook quickly provided users refunds ensuring a great customer service experience as well.
Go Kart Tour In Osaka & Nara
Along with Tokyo, you can also do a go-kart tour in Osaka and Nara. Here's a good review of the Osaka Tour and we must say that it looks like a lot of fun, especially around donburi and Osaka castle. It might even be better than the Tokyo version.
So if you are also planning to visit Osaka during your trip it may be worth considering doing the Go Kart Tou there.
Sum Up
Cosplay Go Karting in Tokyo is an experience unlike any other. It allows you to bring your favorite anime, manga, or video game characters to life and participate in a thrilling race around the city streets.
With unique costumes available for rent along with go-karts, it's a bucket list item that you will look back on for years to come.
Best of all, this activity provides a fun way to explore some iconic sites while doing something completely different than traditional sightseeing activities.